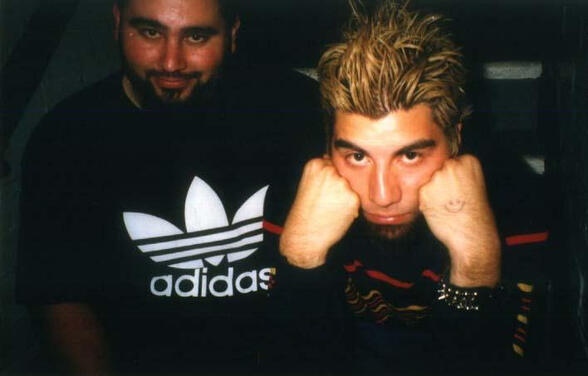 kara

she/her ∘ twentynine ∘ cancer ∘ infp ∘ disaster bisexual ∘ chino moreno/deftones stan

general interests


audio engineering, sound design, web/graphic design, video editing, making themed things, old internet stuff, mixing fashion styles, researching obscure/stupid topics, psychology, criminology, forensic science, astrology, horror films and games, pop/rock/metal/electronic music, shoegaze/trip-hop, k-pop girl groups/soloists
music


deftones. my bloody valentine. fka twigs.
in this moment. butcher babies. lacuna coil. slayer. pantera. the birthday massacre. zeromancer. garbage. curve. ringo deathstarr. depeche mode. lana del rey. charli xcx. marina. sky ferreira. britney spears. rihanna. ariana grande. banks. florence + the machine. billie eilish. crystal castles. sneaker pimps. massive attack. portishead. †††. the weeknd. the mars volta. at the drive-in. silversun pickups. health. idiot pilot. jack off jill. babes in toyland.
films


love exposure, perfect blue, almost famous, taxi driver, fight club, kill bill, get out, 28 weeks later, psycho, the craft, jennifer's body, clueless, heathers, josie & the pussycats
video games
nier: automata, silent hill 1-3, resident evil 1-3, tekken, super smash bros., the last of us, tomb raider, dying light, mirror's edge, pokemon series, splatoon 2, animal crossing series
kpop


sunmi. f(x). girls' generation. after school. orange caramel. nine muses. blackpink. 2ne1. LOOΠΔ. hyuna.
tv
buffy the vampire slayer, veronica mars, dead like me, revenge, alias, beavis & butt-head, daria, serial experiments lain, forensic files, most shows on ID channel, mysteries of the abandoned, i love lucy, reply 1997, fresh prince, that 70's show, the simple life, the maxx

byf (for mastodon)


i don't have much specific criteria, so just don't be a racist, sexist, homophobe (or any of the other -phobes), terf, pedophile, right-winger or a generally rude person.
if you're a cishet male, please do not talk lewd at me, ever.
i'd prefer you not following me if you're under eighteen as i am in my late twenties. if i follow you and you're under eighteen (as it's not listed in your bio), please let me know.
also, let me know if you need me to tag anything for you. i tend to be bad at cws (besides obvious ones like gore and death), but want to make sure everyone's wishes are respected.